SAMASHTI MAA or THE UNIVERSAL MOTHER
SAMASHTI MAA or the Universal Mother is the Mother of the entire Universe. She contains the entire universe within her. I saw a pictorial representation of her at the SREE KRISHNA Temple at Guruvayoor, Kerala. I was fascinated by the picture and with the help of the authorities got a photograph of the picture. Being the photograph of a framed picture the quality is not very good.
---
SAMASHTI MAA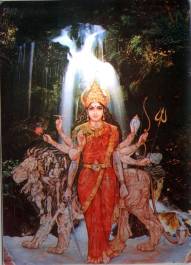 Click the picture to see the full Image

---
I would request the viewers to let me know the history of the above picture viz. The location of the original painting , the name of the Painter and the present owner by E-mail.


I am happy to announce that I have been able to locate the origin of this painting. This painting was painted in Himachal Pradesh in the Kangra region. This painting was published as a calendar picture by Mohan Meakins Ltd. sometime in the seventies. I am writing to the company about the painting .
However in the meantime I have been able to get a better picture which is given now.
---
---
Do you have any questions about worship of MAA or doubts about your Upasana? We may be able to help.We have started a new Yahoo group called Saktha Family for the benefit of the Bhakthas and Upasakas of MAA.
The group has more than 300 members. Some of them are advanced Upasakas.Please join the group now & post your questions on the message board.Check the existing messages.You might find the answer to your queries.