MAA ASHTADASABHUJA MAHAALAKSHMI DURGA
Skandhashramam, near Salem, Tamil Nadu, India.
--Click on an Image to see it Full size--
SAKTHA RELIGION
Sakthas are those who worship the Supreme Deity exclusively as a FEMALE PRINCIPLE. The Supreme Deity is the Universal Mother or MAA as she is affectionately called by her Bakthas . MAA is Love and Compassion personified. She is full of kindness and joy . She is Karunamayi and Anandamayi.

She is always on the lookout for ways and means of helping her Devotee. Unfortunately people view God or the Supreme Deity as a power who punishes the devotees for their misdeeds. But how can a mother punish her children for their misdeeds. Reprimand, warn may be , but no mother punishes her children to hurt them. When we visualise the Supreme Deity as full of Love and Compassion how can she punish her children? Since the images of MAA carry many weapons it is mistakenly believed that MAA is always angry and ready to punish her devotee.

MAA CHANDI

Cuttack, Orissa.
Click on the Image to see full size
---
DEVI MAHAATMYAM is the Supreme book of the Sakthas. MAA fights and vanquishes the evil forces . It clearly shows that MAA is always willing to take up arms against the evil forces to protect her Devotee. The evil forces in this modern age are many and we pray to MAA to wipe out the evil forces of this world. In the mental plane we pray to her to get rid of Anger, Lust and Greed which makes us unhappy .Rather than punishing the Devotee MAA is always on the lookout for even a semblance of goodness in her Devotee so that she can reward him. A prayer to MAA will bring us happiness.

Let us listen to a prayer now.[47 KB. MP3 File]
---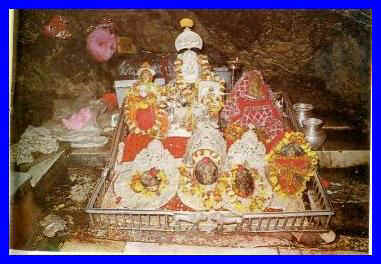 Click on the Image to see full size
MAA VAISHNODEVI
At KATRA, JAMMU & KASHMIR , INDIA
Vaishnodevi temple is a cave temple situated on top of a hill near Khatra, Jammu.

The Devi is in Pindarupa. The three Pindas are MAHAA KALI, MAHAA LAKSHMI and MAHAA SARASWATHI.

The shrine is preferably visited in the winter when the crowd is less and the Purani Gufa or the Old Cave route is open.
---
---
Do you have any questions about worship of MAA or doubts about your Upasana? We may be able to help.We have started a new Yahoo group called Saktha Family for the benefit of the Bhakthas and Upasakas of MAA.
The group has more than 300 members. Some of them are advanced Upasakas.Please join the group now & post your questions on the message board.Check the existing messages.You might find the answer to your queries.