WHAT IS THE RELEVANCE OF SAKTHA RELIGION IN THIS MODERN AGE

Continuing our explanation of SAKTHA Religion to quote Sri.N.N.Bhattacharya from his book History of the Saktha religion

"It will be significant to observe that throughout the ages the Female Principle stood for the oppressed peoples symbolising all the liberating potentialities in the class- divided, patriarchal and authoritarian social setup of India , and this alone explains why attempts were made from different corners to blacken Saktha-Tantric ideals".




MAA KALI

Kalighat, Calcutta.

Click to view full size photograph

Visit the new web site on Kalighat Maa Kali temple

In the Modern age when geographical boundaries are fast losing their meaning it is necessary for us to preach Universal Love and Brotherhood. In addition we have to protect our environment.
Saktha Religion satisfies both these needs.
We have made a small effort to bring to the Devotees of MAA some images and sound files which may be of some use to them. We try to give the Images of MAA in all the Important Temples of India particularly the SAKTHI PEETAS. It will be our endeavour to improve the site by adding more images of MAA.
---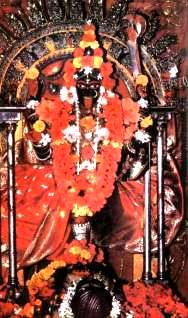 BHAVATHARINI MAA
Dakshineshwar
Click to view full size photograph
This is the Deity worshipped by Bagawan Ramakrishna Paramahamsa the greatest Tantric and Saktha India has ever known. This temple at Dakshineswar near Calcutta and the Mahaakali temple at Kalighat should be visited by all Sakthas and Devi Upasakas.
---
---
Do you have any questions about worship of MAA or doubts about your Upasana? We may be able to help.We have started a new Yahoo group called Saktha Family for the benefit of the Bhakthas and Upasakas of MAA.
The group has more than 300 members. Some of them are advanced Upasakas.Please join the group now & post your questions on the message board.Check the existing messages.You might find the answer to your queries.